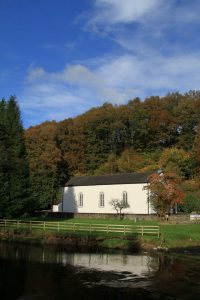 The Clara Vale church is dedicated to St. Patrick, the patron saint of Ireland and to St. Killian, a monk who was born in Co Cavan, but who then travelled to mainland Europe in about 686.
For times of mass, please see Mass Times.
For marriages, please contact the Parish Office.
Details gleaned from a booklet by Fr. Pádraig McCarthy, 1999:
The earliest definite record of a church building on the site is in the map by Jacob Nevill in 1760. In those days, the building would have been thatched. Records also show a later 'slate chapel'.
Parish record books reveal that there was a major reconstruction of the church in Clara Vale in 1838. In 1856, the floor was tiled (perhaps a mud floor until then); the ceiling, church and sacristy were plastered; and a floor was laid in the sacristy. All this cost £128. In addition, £6-8-0 was paid to J.J. McCarthy, the architect who at that time designed the new church in Rathdrum. The sacristy was used as a schoolroom until the building of the schoolhouse, which came into use in 1899.
A gallery was added in 1861 at a cost of £71-17-6 ½ . If you look above the inside door, you'll see two stones projecting – these supported the gallery. The gallery was removed in 1950. The front porch was added in the 1950s. There was at one time a bell tower on the rear gable of the church (over the altar and sacristy) but it had to be taken down when it deteriorated into a dangerous condition.